The Smith & Wesson Model 15 "Combat Masterpiece" was in common use with police and private security officers from the 1950's to the 80's. The four inch barrel configuration was manufactured throughout its production history (1949-1999).
At various times it was also available with a two inch barrel (1964-1988), six inch barrel (1986-1992) and the eight and three eighths inch barrel (1986-1988). The last two longer barrel lengths were issued after Smith and Wesson ceased production of the Model 14 "Target Masterpiece" in 1982.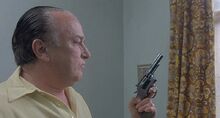 The Model 15, and later the stainless Model 67, was issued to officers of the L.A.P.D. for many years. It was, at the same time, a standard issue to pilots in the United States Air Force as well as the Air Force Security Police.
A civilian in East New York owes the weapon for self-defense purpose.