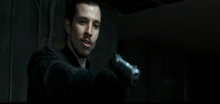 Knox is the main antagonist of the 2018 Death Wish remake.
He is portrayed by Beau Knapp.
Biography
Edit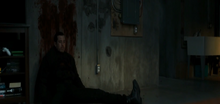 While he remains unknown for most of the film, he is revealed to be one of the men responsible for breaking into Paul Kersey's house, killing Lucy, Kersey's wife and hospitalizing the daughter, Jordan. Kersey soon becomes a vigilante, killing several of the criminals, and eventually gets some information when he kills the Fish, one of Knox's cohorts at a bar, before interrogating and killing Joey about Knox. Knox later calls Kersey, and Kersey tracks down Knox at a nightclub. After a brief gunfight, Knox escapes, but not before wounding Kersey in the shoulder. Knox later recovers at the hospital and sometime after Jordan recovers from her coma, Knox along with two other henchman break into the house once again. In the ensuing fight, Kersey kills both henchmen, but Knox wounds Kersey once again. As Knox taunts Paul, Paul retrieves an AR-15 hidden in his coffee table and opens fire on Knox, killing him.