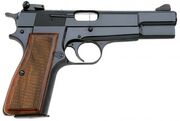 The 
Browning Hi Power
 is a single-action, semi-automatic handgun available in the 9mm and .40 S&Wcalibers. It is based on a design by American firearms inventor John Browning, and completed by Dieudonné Saive at 
Fabrique Nationale
 (FN) of Herstal, Belgium. Browning died in 1926, several years before the design was finalized. The Hi-Power is one of the most widely used military pistols in history,
[3]
 having been used by the armed forces of over 50 countries.
[1]
 After 82 years of continuous production, the Hi-Power was discontinued in 2017.
The weapon is a weapon of choice of Street Punk Gangs leader Manny Fraker.