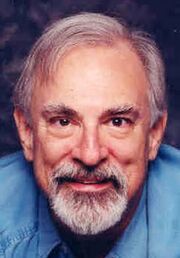 Brian Francis Wynne Garfield (born January 26, 1939 in New York City, New York, USA) is an American novelist and screenwriter. He is primarily known for his novels Death Wish and Death Sentence, which were adapted into Death Wish film franchise and a loosely based movie Death Sentence.
Biography
Edit
Brian Garfield was born in New York City but raised in Arizona. An Army veteran, he had also attended Arizona State University, where he had earned Master's Degree before travelling a lot and living in many places in Europe and USA. After his debut as a writer with a western novel Range Justice published in 1960, Garfield became a professional writer publishing over seventy novels (over 20 million copies of which were published worldwide) under both his real name and an assortment of pen names.
He is also a musician and toured in the 1950's as a musician with The Palisades, a jazz-rock-blues band.
While a lot of his books were adapted as movies, Garfield had also written a few screenplays on his own, among which a cult-favorite horror movie The Stepfather.
Pen Names
Edit
Brian Garfield had used a few pen names in his career, including Bennett Garland, Alex Hawk, John Ives, Drew Mallory, Frank O'Brian, Jonas Ward, Brian Wynne and Frank Wynne.
Opinion on Death Wish movies
Edit
Garfield was initiall unhappy with the film adaptation, calling the film "incendiary", and also stated that the following sequels were "pointless and rancid", since they all advocate vigilantism, unlike the original novel.
As a result, Garfield had written a sequel book, Death Sentence, published a year after movie's release. The book itself very loosely adapted in 2007 film unrelated to original Death Wish franchise which, despite having much less in common with Garfield's original work, received his praise for being more true to the ideas given in both novels.